Raise the Bar at Your Event with These Rentals
Selecting the perfect bar can be a game-changer when it comes to your event. That's why we offer a wide selection of bars to choose from, each with its own unique charm and character.
The Sydney Bar is a true classic, exuding timeless elegance with its natural finish. Here's what makes it special:
Rustic Charm: The natural finish gives the Sydney Bar a rustic and warm appeal, making it perfect for outdoor events, garden parties, and rustic-themed weddings.
Spacious Design: With ample countertop space and storage shelves, the Sydney Bar provides a functional setup for bartenders and a convenient spot for guests to socialize.
Versatile Styling: Its neutral color palette allows you to customize the bar's look with various decorations and accessories to match your event's theme.
The Avenue Silver Frame Bar is a stunning addition to our collection, offering a unique and elegant look:
Silver Frame Elegance: With its silver frame and modern design, the Avenue Bar brings a touch of sophistication and contemporary style to your event.
Spacious Countertop: This bar provides plenty of space for bartenders to craft delicious drinks and offers a comfortable area for guests to gather.
Versatile Styling: The silver frame allows for versatile decoration options, including custom branding, to match your event's theme and ambiance.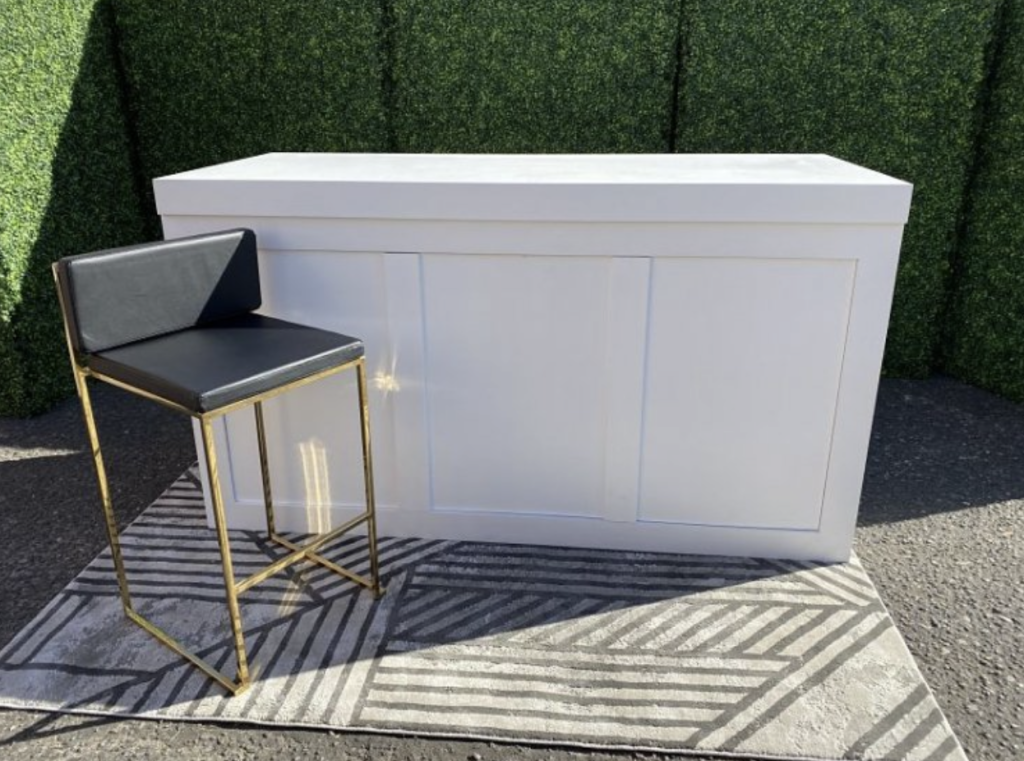 The Brooks Bar in white is a versatile and elegant addition to your event:
Classic Elegance: This white wood bar exudes timeless charm and sophistication, making it a versatile choice for a wide range of events, from weddings to corporate gatherings.
Generous Space: With its spacious design, the Brooks Bar offers ample room for bartenders to work their magic while providing a comfortable area for guests to enjoy their drinks.
Customizable: You can easily personalize the Brooks Bar with decorations and accents to match your event's theme and color scheme.
Elevate your next event with one of these stunning bars, and let the festivities begin in style! You can also check out more of our bar collection in this video on our YouTube. Contact us today to reserve the bar of your dreams and take your event to the next level.
YOU MAY ALSO BE INTERESTED IN